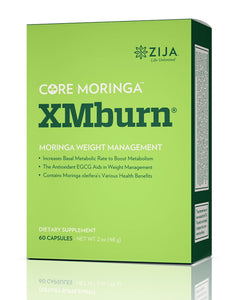 XMburn | Zija
Regular price
$ 59.95
Sale price
$ 74.00
Unit price
per
Tax included.
Turn up the heat with Zija's XMburn! These advanced thermogenic caps combine natural herbs, including Moringa oleifera, with cutting-edge scientific expertise in a convenient daily capsule. 
XMburn works to temporarily increase metabolism, suppress appetite, and help you make smarter food choices to lose unwanted pounds and maintain a healthier weight.
Zija's formulation team has identified and integrated several naturally occurring compounds into XMburn that help individuals better harness their energy and control their appetite.
The catechin Epigallocatechin gallate, or ECGC, is a powerful antioxidant found in XMburn that helps individuals better reach their weight loss and management goals.

XMburn has been shown to temporarily increase metabolism, which is best achieved with an overall increase in basal metabolic rate. Coupling XMburn with strenuous exercise will help individuals achieve a more effective and permanent increased metabolism.
Supplement Facts:
Serving Size: 1 Capsule
Servings Per Container: 30
Niacin (Vitamin B3) 15mg, Pyridoxine HCl (Vitamin B6) 2mg, Methylcobalamin (Vitamin B12) 6µg, Chromium 120µg, Proprietary Blend 201mg, Natural Caffeine 110mg
Ingredients: Proprietary Blend (Green Tea Extract (60% ECGC), Moringa oleifera Blend (Leaf Powder, Seed Cake, Fruit Powder)), 4-Amino-2Methlpentane Citrate (Pouchong Tea), Natural Caffeine, Higenamine, Niacin (Vitamin B3), Silica, Rauwolscine, Pyridoxine HCl (Vitamin B6), Stearic Acid, Chromium Polynicotinate, Mecobalamin (Vitamin B12), Gelatin Capsule. 
Directions For Use: Adults take one (1) capsule, preferably before exercise, on an empty stomach. Consuming late in the day may impair sleep. Do not take more than two (2) caps per day.
---