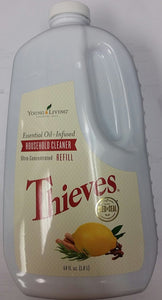 Thieves Household Cleaner Refill 64oz by Young Living Essential Oils
Regular price
$ 104.99
$ 0.00
Unit price
per
Tax included.
Dilution Ratios:
Light Degreasing 60:1
Medium Degreasing 30:1
Heavy Degreasing 15:1
Floors 100:1
Walls 30:1
Upholstery, Fabrics, Carpet Spotting 40:1
Carpet 100:1
Glass 320:1
Pots and Pans 100:1
Hand Cleaner 1:1
Notice: Before cleaning upholstery, fabric or carpet, perform a spot test in an inconspicuous location. Discontinue use in the unlikely event of staining or skin irritation.
Thieves Household Cleaner Refill 64oz by Young Living Essential Oils
---