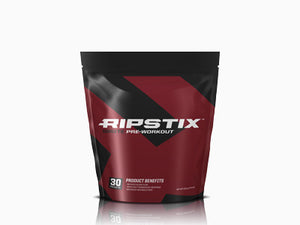 Ignite Pre-Workout | Ripstix
Regular price
$ 99.95
Sale price
$ 125.00
Unit price
per
Tax included.
Understanding the need to get the most out of each exercise experience—whether running, biking, swimming, lifting, or however you choose to get out and move—Zija has formulated Ripstix Ignite. This powerful pre-workout supplement drink mix helps initiate blood flow, heighten thermogenic response, and increase metabolic performance. 
By combining various beneficial ingredients that promote both physiological and metabolic optimization, Ripstix Ignite helps you get more out of each mile, climb, set, and movement. Its bright color comes naturally from elderberries. Use Ripstix Ignite before workouts to maintain an active lifestyle and experience next level results!
SUPPLEMENT FACTS:
Servings Per Container: 30
Serving Size: 1 Packet (7g)
Calories 24, Total Fat 0g, Saturated Fat 0g, Trans Fat 0g, Cholesterol 0mg, Sodium 9mg, Total Carbs 2g, Dietary Fiber 0g, Sugars 0g, Protein 4g
Ingredients: Natural Flavor, beta-Alanine, L-Arginine, Citric Acid, L-Carnitine, Potassium Bicarbonate, Stevia, Natural Caffeine, 2-Amino-4-Methylpentane Citrate, Creatine, Elderberry, Niacin (Vitamin B3), Rhodiola rosea, Methylcobalamin (Vitamin B12).
Directions: Mix Ripstix Ignite with 8-18 oz of cold water, shake well, and drink 10 minutes before exercise. 
---